Bring your Awards or Product Launch to life with a SPECTACULAR WIDESCREEN presentation
You'll be amazed at the size of the panoramic screens
You can have multiple screens arranged horizontally or vertically, in any shape or position Your audience will be stunned by the sheer brilliance of the experience. This is absolutely electrifying.
You have never seen anything this sensational before
They won't believe that such huge images can be so pin sharp. Hearts will pound as we mix projection, plasma screens, video, manipulated images and animation to a pumping soundtrack and light show. Award ceremonies and presentations do not come any bigger than this!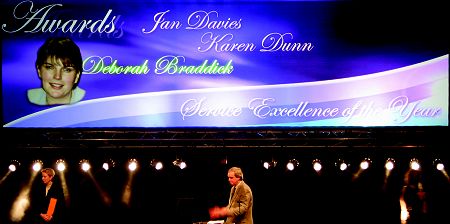 Alive Events use the WATCHOUT system which links digital projectors, each powered by its own CPU, to produce panoramic screens of virtually any size. Smooth edge blending is automatically applied to overlapping projection areas to produce seamless high definition images.
Bring your ideas to life with creative impact and flexibility
Produce panoramic or multi-screen programmes in an exciting mix of formats
Use for spectacular award and conference openers, closers or add new dynamism to any speaker support
Arrange screens horizontally, vertically or in any shape, form or position
Mix projection and plasma screens
Animate images across all screen areas
Integrate video, graphics, sound, lights and PowerPoint
The example above uses a widescreen layout with 3 projectors and 4 plasma screens controlled by one system. A multi-layered panoramic image can run on the widescreen whilst multiple images run on the plamsa screens.